New Jersey Educational Opportunity Fund
Qualifying New Jersey residents can receive special services and financial assistance from Rutgers University.
What is EOF?
The New Jersey Educational Opportunity Fund (EOF) provides financial assistance and support services such as counseling, tutoring, and developmental coursework to New Jersey students from educationally and economically disadvantaged backgrounds when they attend participating institutions of higher education in the state of New Jersey.
Am I Eligible?
To participate in one of the different EOF programs at Rutgers, you must meet all of the following requirements:
Demonstrate an educationally and economically disadvantaged background
Be a New Jersey resident for at least 12 consecutive months prior to first semester of Rutgers enrollment
Apply to Rutgers and meet academic criteria set by the Rutgers school you plan to attend
Graduate from high school or receive the equivalent of a high school diploma by the time you register at Rutgers
File a Free Application for Federal Student Aid (FAFSA) or the New Jersey Alternative Financial Aid Application (NJAFAA)
Your gross income and assets (for independent students) or your family's (for dependent students) must fall within the limits on the following scale: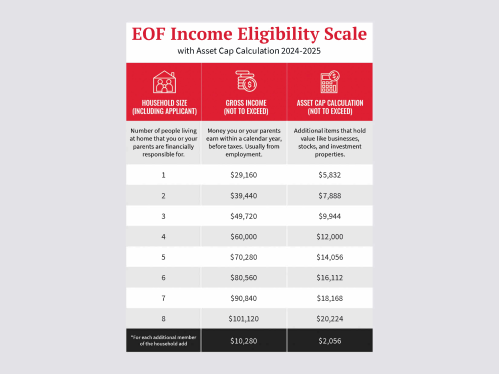 Review the EOF application process and necessary documentation for your particular situation.
EOF Benefits
Summer Institute
Start earning college credit while making new friends and discovering what college is really like before it even begins. This program can last up to six weeks.
Academic Success
Take your education further with exclusive access to unique offerings such as tutoring, LSAT/GRE preparation, and specialized seminars.
Student Support
EOF counselors are available to provide both personal and professional guidance at every step, so you'll always have a partners on your college journey.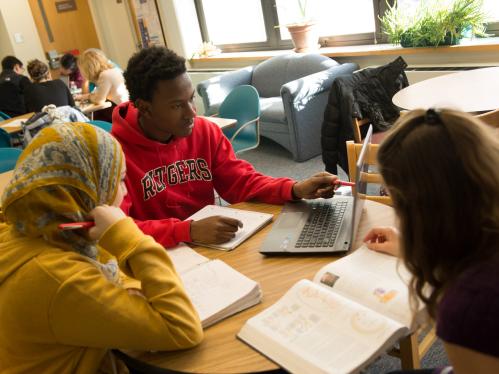 Program Information
Contact the EOF office at the Rutgers school or campus you plan to attend for more information.