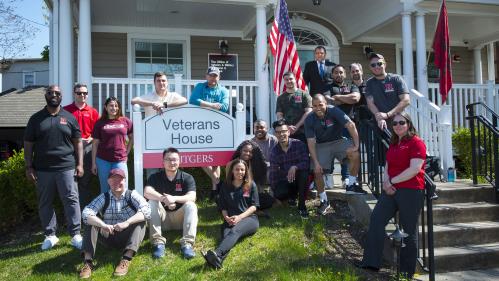 Information for Veterans & Military Students
Rutgers provides comprehensive services and support for our military service members, veterans, and their dependents.
#4 Best for Vets
Rutgers is a top-ranked school for veterans.
Military Times
Veterans and military affiliates can apply to Rutgers University using the same application as first-year or transfer students. If you plan on using Tuition Assistance (TA), you must receive approval from your Educational Services Officer (ESO) or counselor prior to enrolling at Rutgers.
Applicants who are currently serving in the U.S. Military, are military veterans, or military dependents who plan to apply for educational benefits under the GI Bill automatically receive a waiver of the application fee and admissions acceptance fee when they identify as such through the admissions application.
The information below will guide you through the various requirements for your application, so we can get to know you as a student, not a number. That's why we do a holistic review, looking throughout your application to learn about your academic ambition and your potential to make a meaningful impact in your society, rather than just focusing on your GPA.
This section lists the general requirements for Rutgers University, however the school(s) of your choice may request additional information or work.
First-Year Applicant
If you have already graduated high school and have taken less than 12 college-level credits, you are considered a first-year applicant.
See Application Requirements First-Year Applicants
Transfer Applicant
If you have completed 12 or more college-level credits after completion of high school, you are considered a transfer applicant and should submit official college transcripts from all schools attended.
If you have completed less than 24 college-level credits, you also need to submit your final high school transcript and/or official GED results, if GED was earned.
See Application Requirements for Transfer Applicants
Standardized Testing Requirement
First-year applicants have the option to submit official SAT or ACT scores if you have graduated from high school less than two years ago and will not have at least 12 college-credits completed by the Regular Action Application Due Date.
SAT and ACT test scores are not required to be considered for admission to Rutgers University. Test scores are optional for Rutgers–Camden and Rutgers–New Brunswick, and are no longer required for Rutgers–Newark. Rutgers Test Codes:
Transfer credit evaluations are completed after you have been accepted to Rutgers and confirmed your
intention to enroll.
In general, credit is granted for courses taken at accredited colleges and institutions if they are the
equivalent of Rutgers courses and a grade of at least a C has been earned.
Students transferring from 2-year institutions may receive a maximum of 60 credits.
Students transferring from 4-year institutions may receive a maximum of 90 credits.
Rutgers–Camden Credit for Military Services
After completing and submitting your Undergraduate Admissions Application, be sure to send your military transcripts to Rutgers–Camden:
Office of Graduate and Undergraduate Admissions
Rutgers University–Camden
406 Penn Street
Camden, NJ 08102-1400
College Credit for Military Service
Rutgers–Camden recognizes military-based training programs for academic credit through our B.A. in liberal studies program. We use the American Council on Education (ACE) college credit recommendations listed on your military transcript to determine college credit equivalencies at Rutgers–Camden.
Once you have been accepted for admission, we will review your transcript, determine the number of credits accepted, and decide how the credits will be applied.
The United States Department of Veterans Affairs (VA) offers various educational assistance programs
for eligible veterans, certain members of the selected reserve, and certain spouses and children of
veterans.
Active-duty service members, reservists, and National Guardsmen who are eligible for Department of
Defense tuition assistance may also utilize those benefits.
The New Jersey National Guard Tuition Program is available to eligible members of the New Jersey Army
National Guard and the New Jersey Air National Guard.
If you plan on using Tuition Assistance (TA), you must receive approval from your Educational Services Officer (ESO) or counselor prior to enrolling at Rutgers.
As a Yellow Ribbon educational institution, we are accredited by the VA and provide enrollment certification of education benefits as a core service. If you are a military-affiliated student at Rutgers University, you will have access to a dedicated office and staff who will help you access and use all the services that Rutgers has to offer.
Campus Offices
Resources
Military-Affiliated Student Organizations
Rutgers is dedicated to fostering a supportive environment throughout your college career. Learn about military-affiliated clubs that welcome those who served, are currently serving, as well as their families and all supporters.
Rutgers–Camden
Rutgers–Newark
Rutgers–New Brunswick